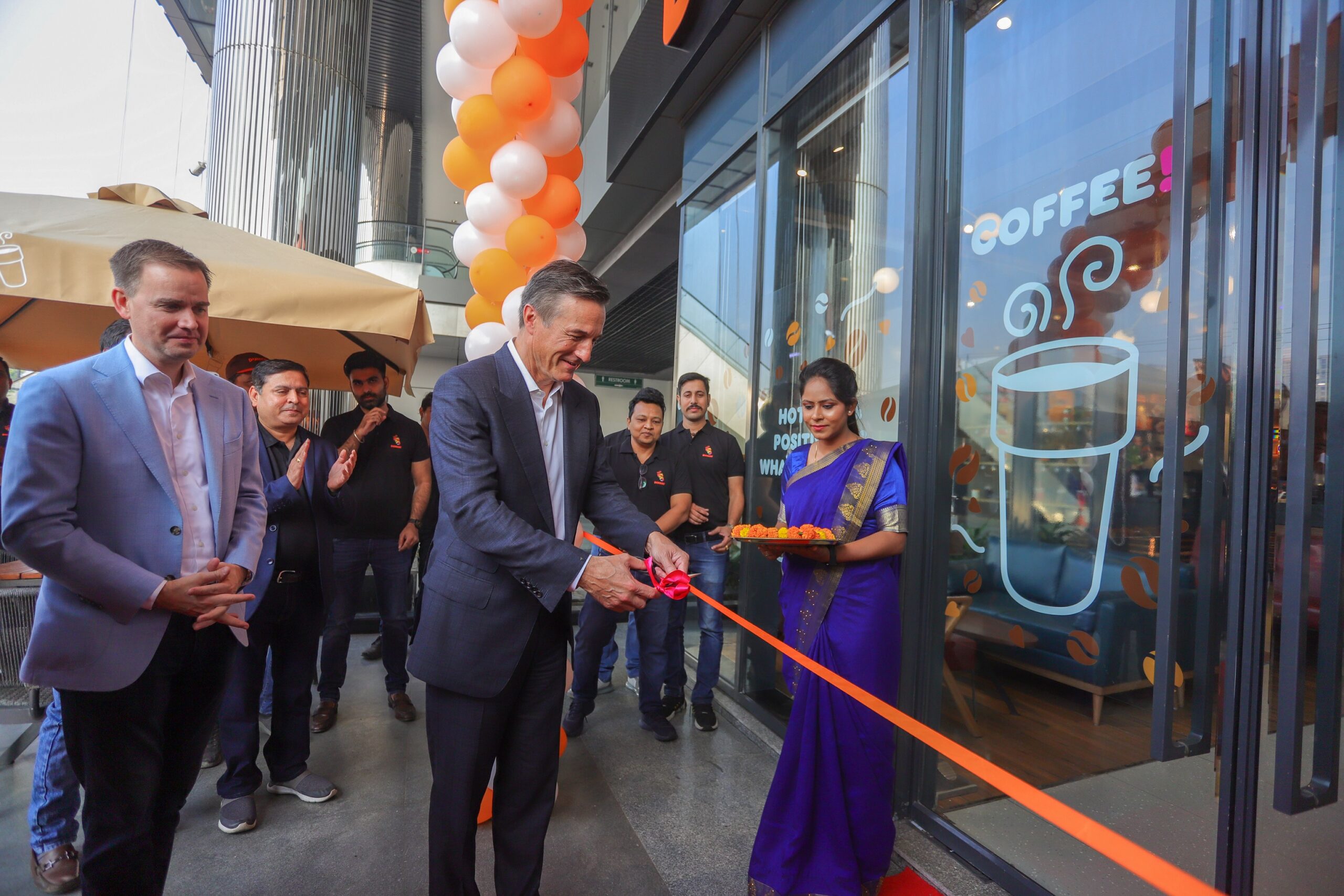 ~The restaurant's modern design showcases a new cafe menu, premium donuts and bakery offerings~
NOIDA, NOVEMBER 16, 2022 (GPN): Dunkin' is one of America's iconic coffee and bakery brands. The brand unveiled a new restaurant design in India at a key moment in the brand's global coffee evolution. The new design upholds the brand's core values ​​of positivity, fun and excitement. The modern and fresh design is also complemented by a new extensive menu, which offers an international range of cafes and bakeries in India at affordable prices.
Dunkin' was founded in 1950 and serves consumers with its line of coffee, donuts and baked goods. Following extensive consumer research, Dunkin' India has launched the new store design and updated menu in Skymark One's new location, Noida. The design was developed in partnership with Landor & Fitch, with rich wood tones and accents of orange and pink, plus comfortable seating, the Skymark location showcases the essence of the brand – fun, dynamic and inviting – and provides consumers with the perfect ambiance to cultivate positive moments over coffee. Dunkin' will soon launch its new identity in NCR stores.
Speaking at the launch, Shyam S. Bhartia and Hari S. Bhartia, Chairman and Co-Chairman, Jubilant FoodWorks Limited (Dunkin's master franchise in India), said, "In line with our strategy of being a multi-brand company, we are delighted to relaunch Dunkin' as a young and dynamic brand, which appeals to millennials. This transformation underscores our strong understanding of Indian consumers' food and beverage choices, changing preferences and our commitment to delivering the highest quality standards. We believe this relaunch of Dunkin' will help us build a stronger brand portfolio at Jubilant FoodWorks. »
Sharing his perspective on the new brand identity, Sameer Khetarpal, CEO and Managing Director, Jubilant FoodWorks Limitedsaid, "Dunkin' is a brand synonymous with an unparalleled coffee experience. Dunkin' is embarking on a new journey and will respond to ever-changing consumer trends, offer more international choices and transition to cold espresso beverages. The complete rebranding reflects our intention to be a go-to coffee destination for the young at heart. The retail coffee category is constantly expanding, and Dunkin' will continue to innovate rapidly and strive to serve the best coffee and bakery products to our consumers.
Reflection on the future of the Dunkin' brand in India, Michael Haley, President and Managing Director of International Markets for Inspire Brandssaid, "On behalf of the entire Inspire team, I would like to congratulate the Jubilant FoodWorks team as we celebrate this exciting milestone for the relaunch of Dunkin' in India. The thriving Indian market represents significant growth opportunities for Dunkin' and the broader Inspire portfolio, and we believe our iconic and differentiated brands are well positioned to meet local consumer preferences. Working alongside exceptional licensees like Jubilant FoodWorks, who have deep-rooted expertise in India and emerging markets, we look forward to expanding our restaurant footprint in India in the years to come.
Note: ^Store counts as of September 30, 2022
Website: www.jubilantfoodworks.com, www.dominos.co.in, https://dunkinindia.com, https://hongskitchen.in/, https://ekdum.co.in/, www.popeyes.in, www.chefboss.com